---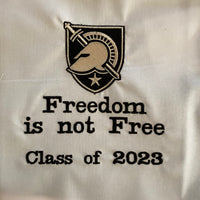 Special Run 2023 Motto West Point Quilt Block - For Quilts or Decorator Pillows
Joyful Sewist
Beautiful 10 inch Embroidered West Point Military Academy Quilt Block.  These are exactly the same blocks I use to make quilts and throw pillows you see on this site. You can too. These logos are embroidered on white high quality quilting fabric. Most of them have 20,000 to 30,000 stitches and take over two hours to stitch out. If you look at the blocks on the quilts you will be able to have a better understanding of the size of the embroidery on the block. Satisfaction guaranteed.
You can order this block stitched out in neutral or bright color way.
Fabric is 100% cotton. American Made Brand 100% cotton shirting is grown, spun, woven and dyed in America. Now that's cause for celebration! Not just made here; grown here. The thread is also from sourced from the USA. 
Please look at my other items. You will see personalized quilt blocks. I can do most anything you might want. These are great for homemade gifts for anyone close to a West Point cadet including: Your son or daughter, their roommate, Mom, Dad, Grandmother, Grandfather, someone who helped your cadet, brother, sister, girlfriend or boyfriend.
I am an authorized approved seller for West Point. Official use of all logos is approved. Some proceeds go to support the WP Student Activities Fund.  If you are a quilter and would like to purchase individual blocks, please look at all my other listings.  There are many standard and custom options  
Please remember these items are meticulously handmade one piece at a time. Due to this process slight variations are typical. So you may expect minor distinctions that will make your purchase special and truly one of a kind.
No returns. If there is a problem with your order, please contact me and I will work to correct it. As with all handmade items there may be slight variation and fabric may vary slightly due to availability.